Miawpukek Horizon Maritime Services MOU
Miawpukek Horizon Maritime Services joins forces with environmental DNA leader, eDNAtec targeting Canada's blue economy and transforming traditional environmental monitoring
Newfoundland & Labrador – October 26th, 2021 – Newfoundland-based, Miawpukek Horizon Maritime Services Ltd. and eDNAtec Inc. have joined forces, through a memorandum of understanding, to deepen scientific knowledge of our oceans, build capacity, promote environmental stewardship and accelerate Canada's Blue Economy.
"Through this partnership, eDNAtec will add standardized and robust environmental DNA (eDNA) sampling systems, which are designed to be easily deployed on vessels, to the Arctic research vessel, Polar Prince, and potentially other inshore vessels," explains eDNAtec CEO, Steve Barrett. "We will train Indigenous cadets and crews and access existing Miawpukek Horizon missions. We can then collect samples from marine ecosystems across Canada and apply our DNA sequencing technologies to provide a complete picture of biodiversity, such as identifying endangered, harmful and invasive organisms and commercially important species.
"This collaborative model combining Indigenous marine services and eDNA technology opens doors to new opportunities and the research will provide an unprecedented understanding of the oceans," says Miawpukek Horizon Director, Shayne McDonald. "Whether it is on our Arctic research expeditions on the Polar Prince, during inshore work, or on dedicated environmental monitoring projects, we can include eDNA sample collection as part of our activities, providing great value to our customers and research organizations. We look forward to adding this training opportunity to our Indigenous Seafarer Development program and having Miawpukek members contributing to this growing body of knowledge."
"Ultimately, we will learn from one another as partners, create new jobs and business opportunities while transforming environmental monitoring within Canada's Blue Economy," adds Barrett.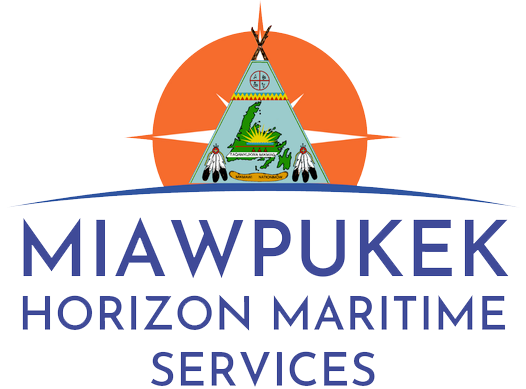 ABOUT MIAWPUKEK HORIZON LTD.
Miawpukek Horizon Maritime Services Ltd. (MHMS) is an Indigenous Business operating in Atlantic Canada that was created to service emerging opportunities in the local marine industry within the Atlantic Region.
MHMS is a company that has evolved from a relationship that started with the recruitment and development of First Nations seafarers from the Miawpukek First Nation, as Horizon Maritime sought to expand its seafarer network and further diversify its workforce. Miawpukek seafarers have become valued members of the Horizon Maritime team and strong relationships between Miawpukek Tribal Council and Horizon Maritime principals have developed as a result.
ABOUT eDNAtec INC.
eDNAtec are specialists in environmental genomics­ ­– dedicated to transforming how to assess, monitor and characterize ecosystems through DNA sequencing and improving the environmental stewardship of our planet's marine and terrestrial ecosystems.

Since 2015, eDNAtec has delivered hundreds of remediation and ecological genomics projects for clients around the world. At its facility fully dedicated to the application of genomics to environmental characterization and monitoring, eDNAtec is working closely with the world's ocean industries, including energy and fisheries as well as the Government of Canada, to bring genomics to mainstream environmental assessment and monitoring.

MEDIA CONTACTS

Richard MacLellan – General Manager
Miawpukek Horizon Maritime Services